On today's show we welcome Arnaud Collery, a multifaceted coach, entertainer, emcee, comedian, filmmaker, entrepreneur, and innovator. He is also known as a catalyst for personal and organizational change and is the world's first Chief Happiness Officer.
Topics include:
Arnaud's journey to becoming the world's first Chief Happiness Officer and how he helps companies achieve purpose, resilience, happiness, and joy.

The difference between passion and purpose—and what you can do to find yours.

How Arnaud has observed generational differences in communication throughout his coaching career.

The power of vulnerability and authenticity in the workplace.

How to become a better speaker by understanding the emotional anxiety around public speaking.
About Arnaud Collery: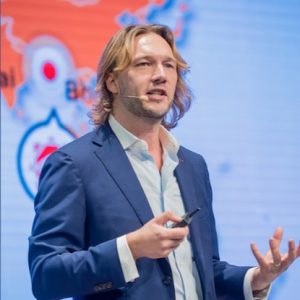 Arnaud Collery is hard to pin down. He's got his hands in a lot of different pies (so to speak), and that's a really good thing. He's an advisor, a jester, a fearless leader, a catalyst, a committed evangelist for Big Ideas and his tireless and fun energy is infectious. He's quick-witted, fun, and his work is utterly unique. He is a true generalist, comfortable across a hugely diverse array subject matters and cultures, drawing on his humor and smarts to bring his passion for happiness to others in a truly life-changing way.  He's an entrepreneur, public speaker, emcee, stand up comedian and jack of all trades across the business and entertainment spectrums. He's created and curates successful hackathons and events series, from Stand up for passion to happyhackingdays.com.
Arnaud Collery created Stand Up for Passion in 2014 drawing from his stage and directing background and combining it with his personal mission to make the world a more purpose-driven and meaningful place. He curates the speakers for each event, while also personally training and coaching the speakers to find their story and give their best performance.
Arnaud has been working on creativity and happiness-related projects and companies for many years and has made it his life's work to spread his insight and tools for happiness in life and business to the world. He founded Kikai Mining, a Happiness Agency, whose goal is to create happiness in all its forms, whether based in technology, workshops, events or films. He created happyhackingdays.com in France (the first hackathon on happiness-related products), launched Happy Sundays in LA, FrenchTuesdays in Tokyo and has lectured/conducted workshops for Cartier, Chanel, Aruba Tourist Agency, United Nations, Novartis, World Economic Forum.
He is in high demand as a public speaker, emcee, and creativity coach in NY, LA, Tokyo, and the Middle East. He was a TedX speaker in Aruba on Happiness in 2015 and has been selected for November 2016 TedX Maastricht. He is the official public speaking coach for TedX Champs Elysees Woman 2016.
He's been involved in startup week LA, winning the Hackathon there for AT&T. He is the host of French American Tech Award 2016 , Japan Tech Start up NY 2016  and was NY's French Touch Tech event panel host 2015 . He is a fellow of the New York Startup Leadership program 2014. He was an Entrepreneur in Residence/Chief Happiness Officer at 88mph.ac, the first tech African accelerator in Cape Town 2013.
By trade, he's an award winning comedian (Last Comic Standing quarter finalist 2009) and filmmaker (Little Klaus Big World, best comedy film at the Monaco film festival in 2012).
He is a graduate of Thnk.Org in Amsterdam 2014, the leading program in Creative Leadership and Personal Dev. in Amsterdam,  IESE business school in Media and Entertainment 2012 and is a former fellow from the European Manager Training Program in Beijing (EU commission scholarship) 2009. He has a bachelor in finance from ESGF in Paris,  a paralegal certificate from the American University of Paris as well as the "1 year immersion in Japanese studies" from CIEE/Waseda U in Japan. He has attended several seminars in films, screenwriting (Robert McKee) or mindfulness (Google's Search Inside yourself).
He has been featured on CTTV China, TBS Japan, KTLA, KPCC, NBC, MTV, E! as well as the Huffington Post. He has appeared in a number of national commercials in US and Japan for Mercedes, Shiseido, Nissan. He also published "Mister Happiness" with France number 1 publisher Larousse on April 2018.
Learn more about Arnaud on his website or follow him on Twitter and Instagram. Watch his Tedx Talk below.