Last night Hollywood celebrated the 70th annual Emmy Awards and—as is the case following every award show—this morning we woke to endless recaps of the show, showering accolades on the winners, lamenting the losses, debating the subject of diversity in Hollywood, critiquing the comedic quality of the hosts and sketches and, ultimately, the relevancy of television as a whole. This is what we've come to expect, coupled with glamorous photos of the Red Carpet fashion.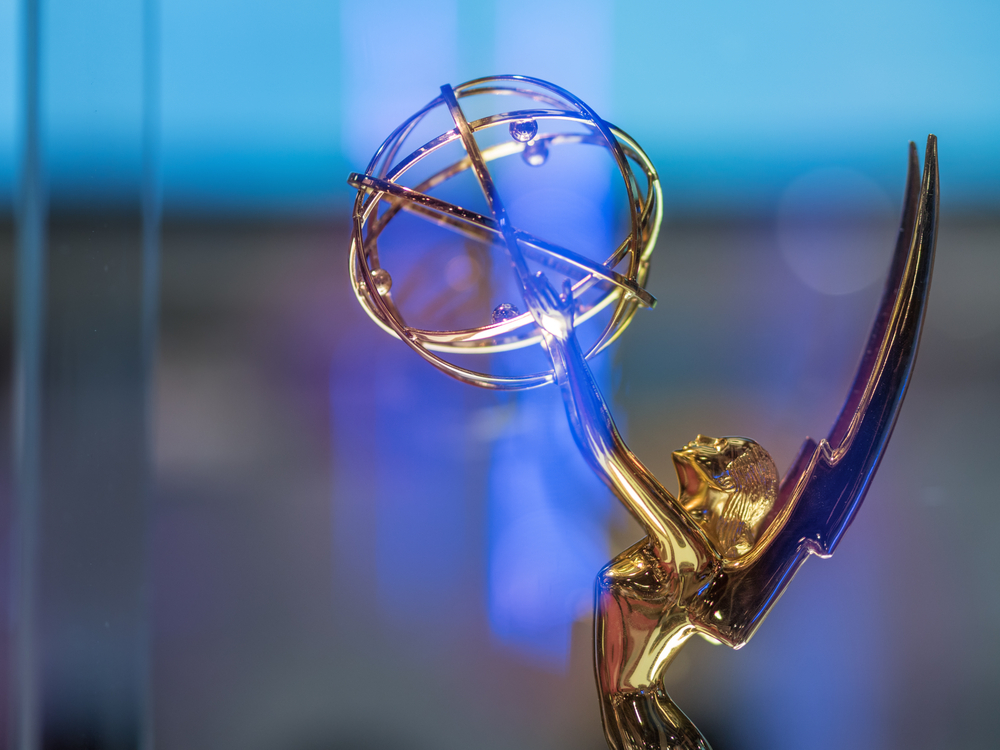 I'm a sucker for awards shows and easily swept up in the allure of the glitz. I cheer wildly when my favorite actors and shows score a win, but what gets me most excited is watching the winners accept their trophies and share their gratitude with the world. And given that we are communication skills experts, I can't help but critique both what the actors are saying and how they are saying it.
When we think about compelling messages, actors often come to mind. Their electrifying soliloquies evoke powerful emotions, gripping us with their intensity. Shows like 'The West Wing' showcase its actors deft when delivering long runs of dialogue expertly and articulately. However, it's often of stark contrast when you see an actor struggling to catch their breath after their name is announced, fumbling to find the words to communicate a simple "thank you."
Last night on the Red Carpet, Betty Gilpin, a nominee for Outstanding Supporting Actress in a Comedy Series for 'Glow,' summed up deep feelings for actors when the cameras are off. "We all feel like Eliza Doolittle from My Fair Lady, pretending to be a princess but inside feeling like a leper, fraud person," she said. "Interviews are very scary. Having ten trillion cameras on you is hard.
I'm throwing my hat into the ring and giving my own version of an Emmy's recap but, rather than focusing on the fashion or the jocularity of the hosts, here is a rundown of some of the best speeches (in my own chosen categories)—the people who truly won the night during their 45 seconds in front of the microphone.
Best Effort At Thinking On Your Feet
Being able to think on your feet is an important skill for a strong presentation. Being too scripted and too prepared sometimes works against you because it comes across as too staged to the audience. Not surprisingly (or maybe really surprisingly), some of the best speeches of the night were delivered by people who are rarely in front of the camera or an audience. The writers—the brilliant minds behind all the powerful or humorous dialogue performed by their talented actors—showcased how much their writing skills and quick thinking really pays off. Here's who truly knocked my socks off:
Amy Sherman-Palladino, the co-creator and writer of 'The Marvelous Mrs. Maisel' on Amazon, walked up to the microphone and riffed on the run in her stockings and humorously described the dreamlike experience of winning the award. She made pithy wisecracks that all seemed very extemporaneous but were likely well-scripted ahead of time. She had back-to-back wins (the second for Outstanding Direction for the same show) and came back with more banter that one would expect from an expert satirist. She embraced both her Emmys in her outstretched hands, demonstrating powerful and confident body language.
William Bridges and Charlie Brooker, winners for writing the episode USS Callister for the Netflix series 'Black Mirror' were equally funny with very deadpan delivery. The highlight of their speech was when Brooker lamented that his 4 and 6-year-old children were tiny ingrates because they are not fans of 'Black Mirror.'
Comedian John Mulaney, however, was certainly the big winner in this category who won for Outstanding Writing for a Variety Special. He brought his trademark style and humor to the stage and very calmly and eloquently thanked his wife who had not flown out to LA to join him for the ceremony because "she did not think he had a chance of winning." "I still think you made the right choice," Mulaney said as he wrapped up his speech. He made us laugh and delivered a perfectly-timed 1-minute standup set that seemed heartfelt and uniquely his own.
Most Powerful Displays of Authenticity
The best presentations are ones that are delivered with sheer authenticity. When a speaker is true to who they are and brazenly demonstrates their realness, we are hooked. Yet on the stage in front of thousands of your industry peers and millions of viewers it's not always an easy feat. In fact, it's especially difficult when your adrenaline is pumping and your head is foggy from the unreal truth that you have scored a major victory. So, when a winner can pull this off, it is pure Emmy gold. Here are the winners who truly let their freak flag fly high last night:
Henry Winkler, the first winner of the evening for Outstanding Supporting Actor in a Comedy Series for his portrayal of Gene Cousineau in the HBO series 'Barry,' gave what appeared to be an impromptu, yet well-packaged speech. He acknowledged the irony of winning after being in the business for more than 43 years. He closed his acceptance speech by thanking his kids and telling them they could go to bed now that "Daddy had won." Clearly, a throwback to what he might have said if he had won during his time on 'Happy Days' playing The Fonz.
Actress Alex Bornstein, who won for her supporting role in 'The Marvelous Mrs Maisel,' stood up when she heard her name called and ripped off her jacket, displaying a very revealing dress with unharnessed breasts. She ran up to the stage and—before a word was uttered from her mouth—she shimmied and proudly showed off her ample cleavage. It was more comedic than provocative and showcased her authentic style and gratitude.
However, my favorite display of authenticity was when the FX miniseries 'The Assassination of Gianni Versace' was awarded the Emmy. Ricky Martin (one of the supporting actors in the show) pumped his fists and nearly jumped out his seat. His unbridled enthusiasm was priceless.
Most Successful Job Of Dealing With Shock And Surprise
Despite the fact that every nominee hopes to score a win, only one in a category of five or six nominees actually walks away with a prize. So, for most nominees, reading the tea leaves ahead of the ceremony helps them to temper their expectations. And, for some, they simply conclude that they have no shot of winning. When those naysayers are actually victorious, their response is usually delightful to watch. Here are some of the biggest surprise winners of the evening:
Merritt Wever, known for her quirky and irreverent role as Zoey Barkow in HBO's 'Nurse Jackie' could not have been more shocked when her name was called as the winner of Outstanding Supporting Actress in a Limited Series or Movie for her performance in the Netflix miniseries 'Godless.' She covered her mouth when her name was called, realizing her response was to expel an expletive and acknowledging that the cameras were on her face allowing us to read her lips. When she reached the stage, she immediately began apologizing for her fear and, as she pulled out her notes, she jokingly acknowledged that she was bombing her performance. It was sweet and genuine and ultimately made for a very moving speech. Even her lack of eye contact with the audience was endearing because it was clear that she was shocked.
Her co-star, Jeff Daniels, who also nabbed a trophy for his supporting role in the miniseries, handled his surprise win a bit differently. He skillfully used his trademark cadence and deadpan delivery to entertain the audience with a heartfelt speech that attempted to mask his own surprise.
The standout in this category was most certainly Regina King who won for her stirring performance in the Netflix series 'Seven Seconds.' She came up to the stage in a complete state of disbelief and acknowledged that she had not prepared a speech because she did not expect to win. While her thoughts were unorganized, she managed to showcase her pure gratitude and pleasure and even tossed in a little humor.
Most Surprising Speech
The speeches we remember always have an element of surprise or intrigue that captures our attention. When we are watching award shows, we often fast forward or tune out when the more technical awards are presented. These are the less polished speakers and we usually have far less connection and interest in the directors, writers or set designers.
So, last night, when the award for Outstanding Direction for a Variety Special was presented to Glen Weiss for his work on 'The Oscars,' I did just that. It was only when I saw 'Saturday Night Live' cast member Leslie Jones stand up, covering her mouth in disbelief, that I stopped and backed up to see what had captured her (and clearly the entire audience's attention). Weiss delivered a very poignant thank you speech, referencing his mother who passed away just two weeks earlier. Despite not being a household name and working entirely behind the scenes, he managed to win the night when he chose to use his acceptance speech as an opportunity to propose to his girlfriend. He even got down on bended knee to put the ring on her finger when she came up on the stage. It was brilliant and a show stopper. Every winner who followed had to stand his shadow and most used it to their own comedic advantage. We can only wonder how disappointed he would have been to have had to nix the surprise had he lost in his category!
Sure, these are not going to be speeches that we will watch for generations to come, exemplifying all the positive attributes of the most powerful speakers. However, understanding that performers and artisans are just as nervous—and sometimes as unskilled—as the rest of us regular people at delivering an impactful presentation to a large group of people, makes their effort that much more relatable, relevant and meaningful.